Extendicare Assist Charity Golf Classic 2018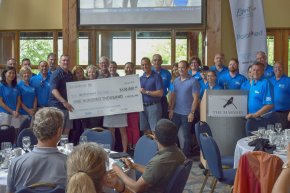 Since 2012, Extendicare Assist has been hosting its annual Charity Golf Classic, with proceeds from the tournament going towards the important work conducted by Extendicare and the Alzheimer Society of Canada (ASC).
We are delighted to announce that this year we presented the Alzheimer Society of Canada with a cheque for $100,000, bringing the total funds raised to over $700,000.
As Canada's aging population continues to increase, so does the number of people living with Alzheimer's disease and other forms of dementia. Through the important work of the ASC, Canadians are offered information, education, and outreach programs that are all designed to help support both those living Alzheimer's disease and other dementias, as well as families and friends of those affected.
To date, our fundraising dollars have been used to support the Relational Caring Learning Series project – an extension of the culture change initiative – which focuses on increasing staff knowledge about relational caring principles through short video clips and user-friendly discussion guides for front-line staff.
In support of the launch of the Extendicare Foundation, we also presented a cheque for $50,000 to the Foundation at the 7th Annual Extendicare Assist Charity Golf Classic. The Foundation will provide us with an even greater opportunity to give back to those that have helped build our communities by providing additional grants, scholarships and programming to support our aging population.
Extendicare Assist looks forward to hosting future events in support of the Alzheimer Society of Canada and our Foundation.