Leroux: How long-term care became an uplifting experience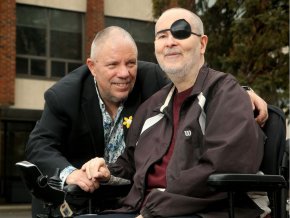 In early October 2017, I ceased to be able to stand and walk. I required a mechanical lift for twice-daily transfers between my bed and a wheelchair. After two months at The Ottawa Hospital, I was placed at Extendicare Medex, a long-term care facility on Baseline Road. I saw the move as a step toward irreversible decline, and faced an uncertain future.
Little did I know that my best days lay, not behind, but ahead of me. I was about to embark on an incredible journey of personal growth and spiritual rebirth – to be, not only lifted, but uplifted.
Within moments of my arrival, a resident made me feel that I belonged. She has since become my table mate and my best friend.
I have witnessed tender moments between spouses, happy occasions uniting families. My own husband and I have seen our relationship grow deeper and stronger.
In my first weeks at Medex, I looked around, saw staff caring for residents, residents caring for each other, and volunteers from the community selflessly contributing their time and effort. I thought, "Here is a path that I too can follow."
Thanks to the example set for me, I have learned the importance of common courtesy, simple human decency, kindness, gentleness. It takes so little to make others feel they matter: greeting people by name, expressing gratitude, welcoming, listening. Lending an ear, a hand, a shoulder, creates a bond of trust and can open the door to the sharing of confidences.
I have learned to communicate beyond words, by reaching out and touching. I have been rewarded by moments of grace, minor miracles – the voiceless finding ways to respond and express themselves.
The staff at Medex has given me opportunities to become more involved – to live, love, learn and lead. They have enabled me to make the fullest use of my talents and skills, in service to others, for the betterment of all. I have read my poems and short stories aloud to residents. I have sung a cappella, music being a universal language. Thanks to my roommate and a personal support worker, I am even learning a little Greek.
When I lived in the community, I tended to interact only with my spouse, my family and my friends. In the past four months, I have dealt with a much wider range of people, each with his or her own idiosyncrasies and challenges.
Like all humans, we are not perfect. We make mistakes. But they offer us opportunities for forgiveness and understanding. We learn from them and move on.
I have witnessed tender moments between spouses, happy occasions uniting families. My own husband and I have seen our relationship grow deeper and stronger. As a gay couple, we have been not merely accepted but embraced. We have been able to show our love quietly but openly.
In a word, having left behind the home where I lived for 35 years, I have found a new home and a new family. This is what a long-term care facility, at its best, can be: a home in the truest and noblest sense of the word.
In this environment, I have flourished in unexpected ways. Spiritually, beyond ritual and dogma, I have gained a new sense of that love of neighbour and fellow man which is the highest expression of the sacred and the divine, that spark we call soul and spirit.
Long-term care is what we make it. Residents, families, caregivers, the community at large – everyone has a role to play. If we open our eyes to the limitless potential just waiting to be tapped, we can all be uplifted together.
Paul Gregory Leroux is a retired translator, a creative writer, and now a proud, happy resident of Extendicare Medex.