Long-Term Care Announcement at Extendicare York Sudbury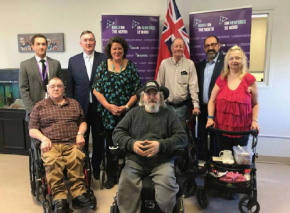 MPP Glenn Thibeault made an announcement at Extendicare York Sudbury about creating 54 new long-term care beds in Sudbury to help seniors better access high-quality care and continue to live happy and healthy lives.
Extendicare President and CEO, Tim Lukenda, toured the home and interacted with staff at the location. He joined them for some team photographs and received many hugs from staff members who were delighted to see him. Stafff were very excited to have had the opportunity to interact with him one to one.
In addition to all of the excitement surrounding the announcements that were made at the home, there were some emotional moments when two tenured employees of Extendicare York (both in excess of 40 years of service to Extendicare) had an opportunity to pose for photos with Tim. Vickie Perreault, currently acting in the capacity of Education Coordinator, has been an employee of Extendicare for 45 years. She was especially appreciative of the opportunity to make a personal connection with Tim today.
Our Activity Aide, Lorna, pictured receiving a hug from Tim, is 3 days away from retirement. She cannot thank Extendicare and Tim enough for helping to end her career on such a powerful and positive note